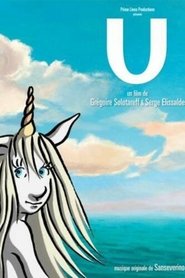 U
Since her parents passed away, Princess Mona lives by herself in a castle with two hideous, ghastly characters, Goomi and His Lordship. One day her sobs draw the attention of a unicorn, called U, who wants to comfort and protect Mona for as long as she needs. U becomes Mona's companion, her confidant and her inseparable friend. While Mona grows into a beautiful princess, a group of charming, peaceful and fanciful Yeah-Yeah's settles in the neighboring forest. They have no particular special powers, yet they soon bring about major changes in everyone's lives, especially in Kulka, the dreamy musician.
Actor: Vahina Giocante, Isild Le Besco, Sanseverino, Guillaume Gallienne, Jean-Claude Bolle-Reddat, Marie-Christine Orry, Bernard Alane, Bernadette Lafont, Maud Forget, Artus de Penguern
Director: Serge Élissalde
Country: France
Rated: 7.3/10 with 21 votes.
Duration: 75 min.
Quality: HD
Release: Oct 11, 2006
Production: Prima Linéa Productions
Views: 2.964