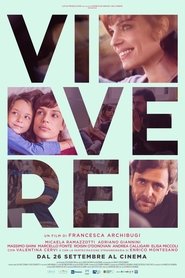 To Live
In a respectable suburb made up of row houses, Luca Attorre — a freelance journalist who struggles to get his features published in the papers — is unable to maintain Susi, a ballerina reduced to teaching dance to overweight women, and Lucilla, their quiet and imaginative six-year- old daughter who suffers from severe bronchial asthma. They are helped economically by Pierpaolo, Luca's seventeen-year-old son from a previous relationship. Pierpaolo lives in an Art Nouveau house with his mother and grandfather, an important trial lawyer of cases linked to politics who rakes in several million euros a year. In the setting of a magnificent and incomprehensible Rome, both a good mother and a bad one, Mary Ann, a deeply Catholic student of art history from Ireland, au pair for the little Lucilla, is caught in the middle.
Genre: Drama
Actor: Micaela Ramazzotti, Marcello Fonte, Valentina Cervi, Adriano Giannini, Massimo Ghini, Enrico Montesano, Róisín O'Donovan, Andrea Calligari, Nika Perrone, Elisa Miccoli, Lynn Swanson
Director: Francesca Archibugi
Country: Italy
Rated: 6.7/10 with 5 votes.
Duration: 103 min.
Quality: HD
Release: Sep 26, 2019
Production: 01 Distribution, Rai Cinema, Lotus Production, 3 Marys Entertainment
Views: 1.802