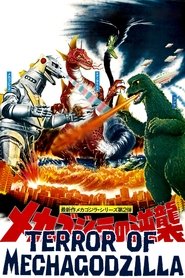 Terror of Mechagodzilla
Godzilla comes to the rescue when an alien race rebuilds Mechagodzilla to destroy Earth's cities. A traitorous scientist gives them a second weapon: Titanosaurus.
Genre: Action, Science Fiction
Actor: Katsuhiko Sasaki, Tomoko Ai, Akihiko Hirata, Katsumasa Uchida, Goro Mutsumi, Tadao Nakamaru, Shin Roppongi, Yasuko Agrawa, Tôru Ibuki, Kenji Sahara, Kotaro Tomita
Director: Ishirō Honda
Country: Japan
Rated: 5.8/10 with 50 votes.
Duration: 83 min.
Quality: HD
Release: Mar 15, 1975
Production: Toho Company, Ltd., Henry G. Saperstein Enterprises Inc.
Views: 5.154