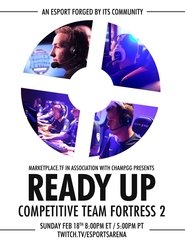 Ready Up: Competitive Team Fortress 2
Ready Up: Competitive Team Fortress 2 is a film about the competitive Team Fortress 2 esports scene, a scene that has thrived continuously on the community's support. From pro players and viewers, to casters and producers, as well programmers and designers, the film explores a look into the creation of competitive 6v6 over the past 10 years.
Genre: Documentary
Actor: Paul Chaloner, Grant "b4nny" Vincent, Carl Yengsheng, Josh Wilkinson, Josh Wilkinson
Director: Ness "uberchain" Delacroix
Country: United Kingdom, United States of America
Rated: 0/10 with 0 votes.
Duration: 69 min.
Quality: HD
Release: Feb 18, 2018
Production:
Views: 0.6