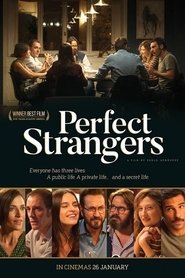 Perfect Strangers
During a dinner, a group of friends decide to share whatever text message or phone call they will receive during the evening - and all hell breaks loose.
Actor: Valerio Mastandrea, Kasia Smutniak, Marco Giallini, Alba Rohrwacher, Anna Foglietta, Giuseppe Battiston, Edoardo Leo, Benedetta Porcaroli, Elisabetta De Palo, Tommaso Tatafiore, Noemi Pagotto
Director: Fabrizio Lucci
Country: Italy
Rated: 7.9/10 with 2692 votes.
Duration: 97 min.
Quality: HD
Release: Feb 11, 2016
Production: Lotus Production
Views: 9.562