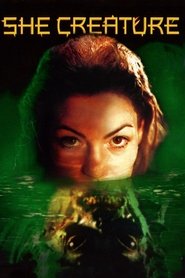 Mermaid Chronicles Part 1: She Creature
Two carnies (Sewell and Gugino) abduct a mermaid in Ireland, circa 1900, and decide to transport her to America. As their ship loses its way and heads towards the mythical Forbidden Islands, the mermaid begins to display its deadly side.
Genre: Horror
Actor: Rufus Sewell, Carla Gugino, Reno Wilson, Mark Aiken, Fintan McKeown, Aubrey Morris, Gil Bellows, Rya Kihlstedt, Hannah Sim, Jon Sklaroff, David Nott
Director: Lou Arkoff
Country: United States of America
Rated: 5.5/10 with 40 votes.
Duration: 91 min.
Quality: HD
Release: Dec 20, 2001
Production: Columbia TriStar, Creature Features Productions LLC, HBO
Views: 6.389