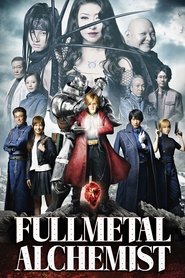 Fullmetal Alchemist
Two alchemist brothers go on a quest for the Philosopher's Stone after an attempt to revive their dead mother goes horribly wrong.
Genre: Action, Fantasy, Science Fiction
Actor: Ryosuke Yamada, Tsubasa Honda, Dean Fujioka, Ryuta Sato, Misako Renbutsu, Yo Oizumi, Kenjiro Ishimaru, Yasuko Matsuyuki, Shinji Uchiyama, Kanata Hongo, Fumiyo Kohinata
Director: Fumihiko Sori
Country: Japan
Rated: 5.1/10 with 279 votes.
Duration: 135 min.
Quality: HD
Release: Dec 01, 2017
Production: Square Enix, Warner Bros. Japan
Views: 6.82