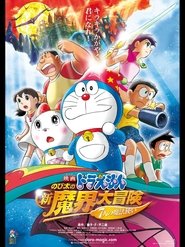 Doraemon the Movie: Nobita's New Great Adventure Into the Underworld - The Seven Magic Users
Nobita has changed the real world to a world of magic using the "Moshimo Box" in admiration of magic. One day, Nobita meets Chaplain Mangetsu, a magic researcher, and his daughter Miyoko. Nobita learns from them that the Great Satan of the Devildom Star is scheming to invade the Earth. The Chaplain tries to find a way out using ancient books, however, the Devildom Star rapidly approaches the Earth by the minute, causing earthquakes and abnormal weather conditions. Nobita, along with his friends, Doraemon, Shizuka, Suneo, Gaian and Dorami, together with Miyoko, storm into the Devildom Star, just like the "Legendary Seven Heroes" in an ancient book in order to confront the Great Satan and peace returns to the world of magic.
Rated: 6.8/10 with 6 votes.
Duration: 112 min.
Quality: HD
Release: Mar 10, 2007
Production:
Views: 5.691